Putting The 'FUN' Into Fundraising!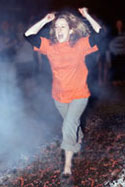 Raising funds with the Blaze Fire walking Challenge is as simple as A-B-C!
So, you are looking to be generating thousands of pounds for your cause in a few short hours? Up to the excitement of hosting your very own Blaze fire walking challenge, gaining the publicity and kudos that comes with working in partnership with Blaze, the fire walking experts and hosting the 'Shortest Sponsored Walk In The World' at a location close to you?
A. Click Here To Host Your Own Licensed Blaze Fire Walking Event!
Do you know what the Blaze differences are that makes us so unique?
Firstly, Blaze is focused entirely on charity events. We are not some wannabe 'corporate training company' who have desperately added charity fire walking or glass walking as a 'bolt on' to their normal flaccid menu of events.
Secondly, we INVENTED the whole 'charity firewalking' market in the first place and running events purely on a charity template is OUR specialist area of expertise.
Please know that we appreciate your investigation of our events for consideration as a fundraising tool. In return we promise to do everything necessary to make this your most productive and fun event ever!